You have to love sitting down with a good book, and a nice cup of tea (or coffee if, y'know, you haven't had much sleep or something).  So why not do this proper Pride and Prejudice style?  It seems as though the latest literary trend is related crockery… so I'm bringing to you here the best dressed of the Pride and Prejudice themed cups and tea-related goodies so you too can enjoy your Earl Gray or your English Breakfast in true Regency-fan comfort!  (Perhaps even treat your Mum for Mother's Day?)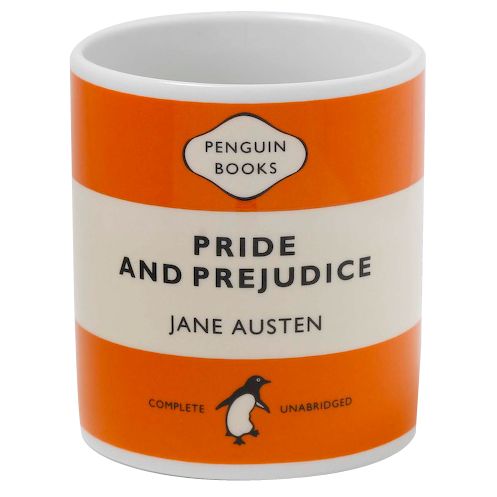 These orange and white penguin covers (designed by Edward Young in 1935) have now been put onto cups! Although it is a really nice nod to the early beginnings of cheap mass-produced literature (and wide consumption of Pride and Prejudice) it isn't the most beatiful looking thing, and orange is never the most becoming colour for a mug. The Pride and Prejudice one is said to be one of the most popular of the twelve (which were adapted to the cups by Tony Davis), and if you are one of those people that loves it then in this same penguin-themed collection is (for all us stationary-hoarders) a lovely A6 notebook with the Pride and Prejudice cover, that I have seen in Borders already. 
I'm really not joking when i say that for every quote you love from Pride and Prejudice (even from unsavoury characters) there is probably a mug to match it!
So, if you're the artsy type, then there are these gorgeously elegant mugs from Brookish, that don't stand out like a bit of a sore-thumb as the Penguin ones do.  Brookish is the 1800s inspired shop that was the brain-child of a husband and wife in California, and if you want to win one of the mugs, then you can- by checking out this blog post and following the instructions.  There are plenty of these sorts of giveaways on the internet, and I will post them up within my blogs as I find them- but keep Googling if you want free stuff!
"… how ardently I admire and love you" (on the other side of the mug).  This is for those who are P&P fans "but have modern taste in drink ware" and it is a really lovely looking piece of ceramic.  If you like this one, then I would also suggest checking out this one at Zazzle or the beautiful itallic, almost cursive calligraphy appearing mug from etsy.
Cafe Press is also keying into the trend, with a similarly gorgeous one of their own "Pride and Prejudice Mug" and "Pride and Prejudice Stein" from Milkweed Graphics, $20 and $24 respectively (and for a dollar more you can get the Large Pride and Prejudice mug for $21).  I like the colours and words on this one, with Pride and Prejudice in large font, and nice swirling lettering for "Jane Austen". 
Milkweed Graphics has created a very VERY extensive collection of all things literary and amusing, and has many more Pride and Prejudice type mugs, some of which are extremely pretty indeed.  Maybe it's just me, but I always find drinking from dainty cups very satisfying, but anything fun/cute is highly likely to end up in my cupboard as well.
Cafe Press itself has a few other winners, and for a younger reader I would definitely suggest this "I ❤ Mr. Darcy" cup (in true "I ❤ New York" style), that combines hip and regency to come up with something that is borderline novelty souvenir.  For the true BBC/A&E lovers, however, this next one will have you holding your breath.
This
Darcy cup from the Jane Austen Centre's giftshop
(which also stocks a number of other amazing Pride and Prejudice goodies including buttons, bags, books, keychains, earrings, soap, handcream… you name it!) is absolutely to-die-for.   But the most convenient (particularly for us that commute, and spend hours in need of tea/coffee on a stuffy train) is this lovely ceramic
travel mug from the Pemstore
 which has one of my favourite little quotes on it:
So what do you think about this?  Is it a bit ridiculous?  A waste of money?  Or are they a nice tribute to have in your cupboards?  If you're really into this whole trend, then I would definitely suggest checking out what generic online stores (eBay, Amazon etc) have to offer, particularly if you are looking for a bargain.  And if you can't find exactly what you want?  Make your own!  Create a graphic on your computer and go to any regular printing place and they should be able to do this for you.  Or- get even more creative and check out Gloria Jeans' new cups that let you draw on them.  You can buy them in-store (but they are franchised) but I think they just may have been an Easter promotion (some still at Gloria Jeans in Central if you're interested)… I can't seem the online so let me know if you have any info about them!  However, they may be overpriced and by buying a ceramic pen and a ceramic mug and then baking it after decoration, you can do practically the same thing.  If you have made anything like this then post up a picture!